3 Blogging Tips to Increase Traffic and Leads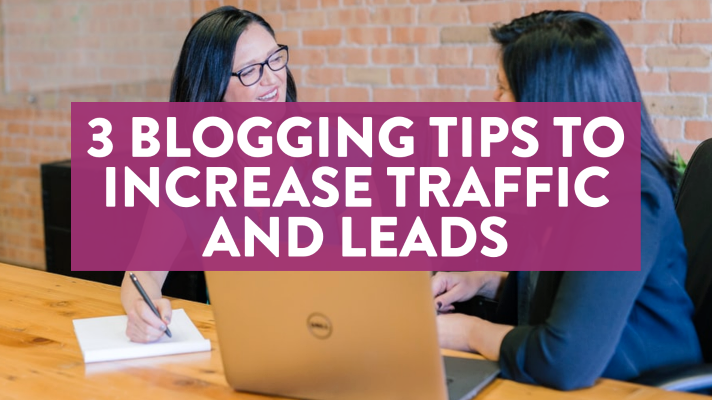 Having a website that captures the essence of your brand is a must. But it's not enough to have a functional and attractive website. You also need to include useful and relevant content for your audience.
In fact, 78% of marketers believe that custom content is the next frontier. And while there are several different mediums and platforms you can use to create compelling content, your business blog is certainly one of the most accessible options.
Experienced marketing consultants will tell you that having a blog on your site is essential. Not only will crafting and publishing posts solidify your position as an industry leader, but it can provide you with a consistent means of promoting your business and drumming up new leads in the process. And whether you opt for outsourced marketing services or you plan on handling your blog in-house, you need to make blogging a priority as part of your brand marketing strategy.
Of course, you can't simply create a 300-word post whenever you remember and call it a day. You need to be strategic about your blogging in order to achieve the results you're after. Ultimately, your goals are probably to increase traffic to your website and prospective leads. But how do you do that through your blog? Here are just a few best practices that anyone providing marketing consulting services would recommend for businesses.
Post Shareable Content Frequently
With any kind of outsourced marketing services (or even in-house marketing efforts), consistency is key. Marketing is not a "one-and-done" type of endeavor. Virtually every aspect of your marketing strategy needs to be executed on a consistent basis — and that includes blogging. That said, you can't simply post for the sake of posting. Ideally, you'll want to post blogs on a regular schedule and have every post provide something interesting, helpful, or entertaining to your audience. Your posts need to be well-written, relevant, and life-improving. By creating and sticking to a content calendar, you'll be able to map out your strategy so that your posts are both consistent and highly shareable.
Write For Your Audience AND For Search Engines
As mentioned above, it's essential that your blog posts be pertinent to your audience and offer some kind of value. You need to write with your reader in mind — and that might mean finding out what they want to know, rather than writing what you want to share. You need to provide your audience with solutions rather than a sales pitch. Find out the questions they're asking and you may be able to provide the answers they're searching for.
But while your human readers should be a priority, you can't forget about search engines. Anyone who provides outsourced marketing services will probably understand the importance of SEO. Remember to use SEO practices like keywords, tags, meta descriptions, and links to make your content easier for search engines to understand. If you can provide value and relevance for humans and search engine bots, you'll already be ahead of the competition.
Don't Underestimate the Power of a Good Headline
If you've already invested in outsourced marketing services or devoted a lot of time to developing your brand strategy, you already know how important a brand's purpose or tagline can be. These aren't just catchy statements; they should encompass what your brand is all about. Blog post titles and headlines should be approached in much the same way. To convince readers to click, they need to be compelling. On the flip side, they need to be straightforward about what someone can expect from the experience. You need to craft blog post titles that will instantly grab someone's attention without being misleading. If you can do that, you'll get people to click (and to stay on the page).
Whether you're relying on outsourced marketing services for content or you'll be writing blog posts yourself, refer back to these principles often to make sure your blog is ticking all the boxes. If you keep your audience in mind and utilize the best practices of both journalists and marketers, you'll be able to drive traffic and conversions. For more on how my services can improve your brand strategy and brand marketing, please get in touch today.
---
---