3 Telltale Signs You Need a Fractional CMO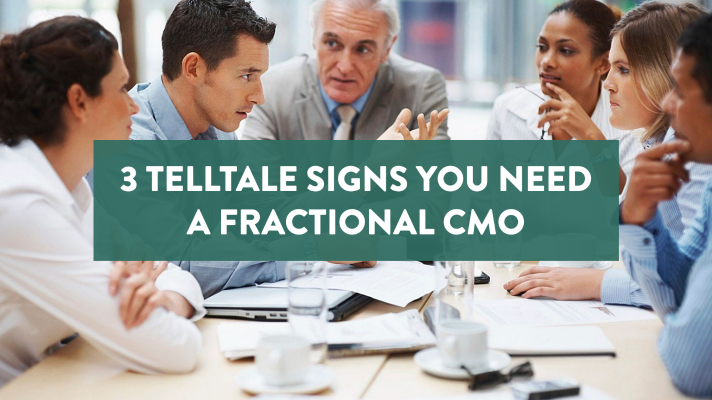 There's no doubt that marketing will play an essential role in the success of any business. But whether you're a brand new tech startup or you've been operating in your industry for years, it's easy for your marketing strategy to become an afterthought. If and when it does, you'll find it difficult to remain relevant and profitable.
However, you may not have anyone currently on your staff who can take the reins. At that point, it may be wise to consider hiring a fractional chief marketing officer (also known as a fractional CMO), who can come in and lead your marketing team on a consultative basis. When you outsource CMO responsibilities, you'll benefit from all the experience of having a leader and visionary in marketing without making a long-term commitment. But how do you know whether a fractional CMO is right for your situation? Here are just three telltale signs you should consider working with an outsourced CMO.
You Aren't Ready To Bring On a Full-Time Hire
If you've recently started your enterprise or you simply can't offer the salary and benefits package to attract a full-time marketing executive, it may make more sense to work with someone who offers outsourced marketing services on a contract basis. In many cases, a fractional CMO will offer their services on a short-term or part-time basis, but this relationship can also be ongoing. If you don't feel your budget or the amount of work would justify a full-time hire, a fractional CMO can help you formulate and execute a strategy that allows you to grow over time.
Your Sales and Marketing Teams Aren't Aligned
Although 27.2% of customers say they've made it a top priority to develop a trusting relationship with marketers over the next year, it's difficult to build trust with clients if your sales team has been left out of the planning. In many cases, marketing and sales teams work independently — to the point where they aren't even on the same page. If that sounds familiar to you, you need someone who can facilitate a united front and ensure everyone is working toward the same goal. Your outsourced CMO can act as a leader who will strengthen and solidify your message while promoting cross-team collaboration.
You've Recently Had Leadership Changes or Challenges
If you've recently lost your head of marketing or you haven't had anyone fill this type of position for a while, chances are good that your message will be confused or weak. Whether you need more time to find a full-time replacement or you need a stronger sense of direction to get your organization on the right path, a CMO operating on a fractional basis can act as your advisor and provide truly objective insight. Rather than run around in circles, you can have someone lead you without bias or agenda.
While these certainly aren't the only situations in which it makes sense to hire a fractional CMO, they're among the most common scenarios I see. To learn more about how my outsourced marketing services can help you reach the next level, please contact me today.
---
---