3 Ways Brand Marketing Can Help Your Business Grow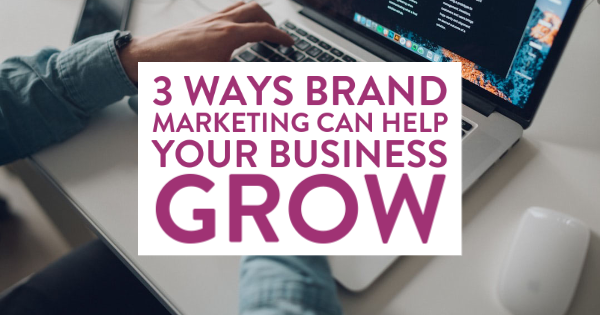 Marketing probably represents a substantial portion of your business's overall budget. After all, promoting your products and services to your target audience seems like a no-brainer. But if you haven't clearly defined your brand purpose, core values, and unique voice (and if you haven't worked those into every part of your organization), you're going to have a tough time standing out.
I firmly believe in taking a holistic approach to marketing, which means that your marketing should be fully integrated into how your business operates. But in order to make the most of your marketing, branding needs to be more than an afterthought. In fact, it needs to come first — and that's what I aim to accomplish with my brand marketing consulting.
What is Brand Marketing?
Although they are both used to acquire customers and to drive sales, branding and marketing are actually two very different concepts. While marketing is designed to push products, services, or organizations, branding is designed to pull customers in to see the value your business brings. Neither is inherently better than the other — but they're stronger when they're utilized together.
That's what brand marketing consulting services do. We'll work together to define your brand strategy first — which is what's left when your marketing efforts are taken out of the equation. Your brand offers a sense of emotional connection to customers, which can bolster trust and loyalty. Once that's established in every aspect of your organization, you can utilize my outsourced marketing services to create a more specific and tangible campaign for promotional value.
Without a clear brand strategy and purpose, your marketing efforts will seem generic and hollow. But if you prioritize brand marketing consulting as an integral part of your organization, you'll be able to facilitate long-term growth, customer satisfaction, and an impressive company culture. Let's delve into why you should consider brand marketing consulting services, regardless of your industry, size, or point of view.
How Can Brand Marketing Consulting Allow Your Business to Thrive?
You'll Build a Strong Foundation: I mentioned above that I take a holistic approach to marketing, meaning that all parts of a given business need to work together to achieve shared marketing goals. This can result in huge wins for any organization. But in order to accomplish that, you'll need a strong brand foundation. When you start with the brand, you'll be able to keep the big picture in mind and make sure that everyone is involved in maintaining that messaging. This can result in improved customer experiences, greater employee satisfaction, and better brand visibility overall. If you don't start with the foundation, you won't have anything to really build upon with your marketing.
You'll Save Time and Money: It's worth pointing out that brand marketing is actually much more streamlined — and, therefore, more effective — than taking on either task in isolation. If you lack a defined brand voice or message, your marketing campaigns will likely fall flat. You may even have to re-do your marketing materials because they're devoid of purpose. But by regarding branding and marketing as two sides of the same coin, you'll save time and money in the long run. You'll ensure everything strikes the right tone and captures the essence of your business from the start.
You'll Achieve Consistent Messaging: It's fairly obvious when a brand fails to be consistent in their marketing and other communications — and it's not a good look. In order to succeed, especially in the digital age, your organization needs to maintain consistent messaging across all channels. Whether in print advertisements, digital ads, or social media posts, your brand strategy needs to be consistent. You'll stand to achieve a lot by focusing on this area, as consistent branding across all channels actually increases revenue by 23%. When you have a strong brand to fall back on, you won't have to worry about inconsistent messaging.
If you're struggling with hitting the right marketing note or you can't seem to define your brand clearly enough, I'm here to lend my expertise as your partner in brand marketing. For more, get in touch today.
---
---