3 quick ways to level up your brand without spending 10's of thousands!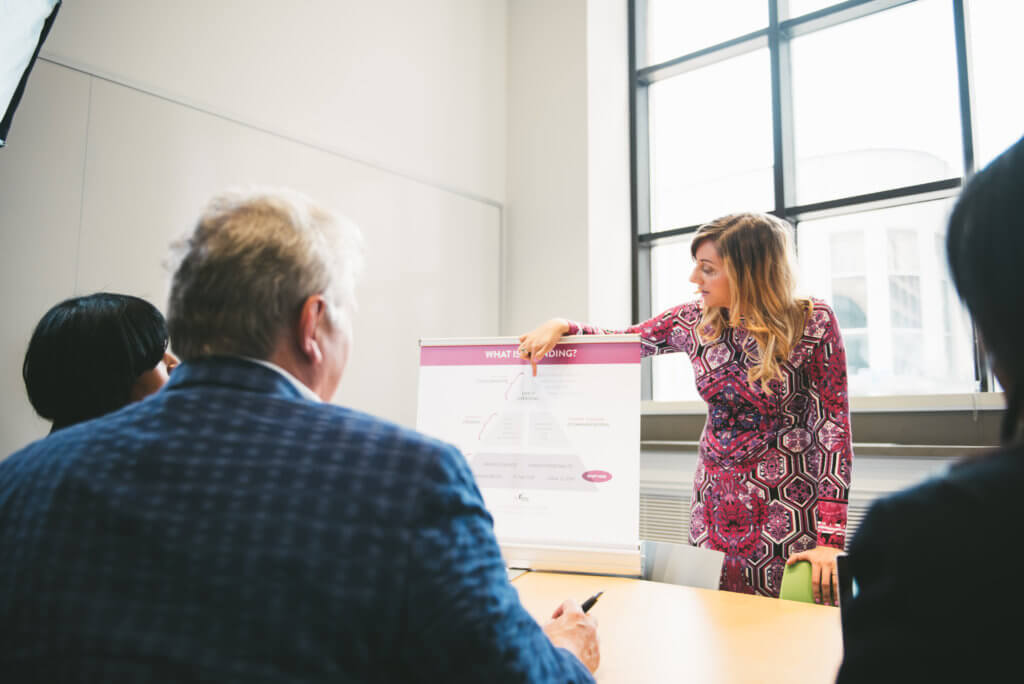 Branding is all about aligning who you are as an organization with what you want to become. It's about mining the gap, so a clear, consistent and credible perception of YOU is being communicated through everything you and your organization does.
I was with a friend who attended one of my branding talks and she posed the question to me, "what if we simply don't have the budget to completely redo our brand? What are some things that we can do as a 3-4 person small business to take our brand to the next level without spending 10's of thousands and starting over?" Which was my inspiration for my post for today!
1. Build your brand message around your "why?"
In the words of Simon Sinek- People don't' care what you do they care why you do what you do! Finding the purpose of the organization is NOT your feature functions or benefits. It's much much bigger than that, it's abstract yet inspiring. It's not how you do it differently and it's not what you do.
For example which sounds more purpose driven?
As a research consulting firm, we're all about:
1. Driving results through data-driven analytics or method of selling systems
Sorry – this is dull and no one cares – blah blah blah. It sounds like every other business out there!
2. Helping people reveal the truth to empower free choice
This is inspiring and different. It opens the door for you to cut to the why and having bigger conversations about what really matters! Do you see and FEEL the difference? Remember it's about helping people connect with your brand in ways that go beyond your product or service. Build emotional connection and you will stand out from your competitors.
2. Maintain consistency
If you can't change everything at once, start looking toward creating consistency with everything you do! How can you integrate consistency with your business processes, systems, and employees?
If you're a b2b start with thinking about your sales and marketing first. Here are a few things to get you started
Sales follow up. How are you keeping your brand personal? Do you send a follow-up sales email, snail mail, direct mail?
Email signatures for you and your team. Questions to ask yourself: does everyone use the same colors, fonts, and picture layout? Can you add a link to your latest PR or blog post?
Social Media banners for employees. Making sure each employee is exactly representing the organization correctly through their LinkedIn pages and other social media platforms.
Marketing & website. Questions to ask yourself: is your WHY and purpose on the homepage? Does your marketing use the same colors, fonts and messaging?
Maybe you are unsure just how consistent you are? Send a survey out to your current customer asking them how consistency they think you are.
Events. Questions to ask yourself: is the brand personality being reflected through
How can I as a CEO equip my employees and sales staff when prompting a sales call with so that is is in alignment with our brand? What are they saying and how should they be communicating? What are the words they are speaking? Do I need a communication style guide to define the words they should be using in each call?
Are your font and colors on point?
The right color and font choices can dramatically impact who is attracted to your brand. If you're a wellness studio – you DO NOT want to use bright red, you want soft colors. The same goes for font pairings.
3. Sharpen Up your brand Identity
Finding something that you tweak will help your brand to stay relevant in the minds of others. Big brands do this all the time. With little effort, you can better align your identity with your brand without confusing your customers.
Update your colors. If the colors of your identity aren't conveying what you need them to, consider removing one and adding a different. Or remove it all together. Keep it simple for people to better remember.
Add your tagline or revise it. I'm not saying come up with something fun and catchy to add to your existing name, what I am saying is uncovering what your organization is all about, work with a professional to clearly define your brand essence and belief statement so that a thoughtful, meaning and effective tagline can be created. This could be the one thing that ties all of your marketing together. This is no small task.
Remove unnecessary words in the name. Nothing is worse than having a company name that is 3-4 words, those that try to say too much, saying nothing. You never want to name a company, event or idea more than that. People will not remember it which is the antithesis of branding! For example: after my 2nd year in business I changed my name from Novus Creative to Novus. I dropped creative and added my tagline – be known. I did this for two reasons, one people kept confusing creative with creatives and second most people just called it Novus anyways. It made it more clear without having to really change anything, I was simply giving people what they asked for.
---
---