Social Selling: How to Effectively Connect With Customers on Social Media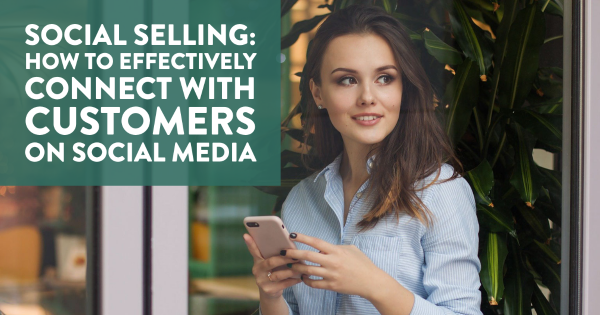 Whether your organization is B2B or B2C, you can always stand to improve your sales. Investing more time into your prospecting efforts will typically pay off — if you're meeting prospective customers where they already are.
That's just one reason that social media is so powerful from a sales perspective. Although 90% of users haven't made up their mind about a brand before starting the search process, connecting with prospects on social media can be a way to make a significant impact in a less obtrusive way. As marketing consultants will tell you, it's essential that your sales team leverages the allure of social media in an effort to grow your business. Let's take a closer look at social media prospecting in today's post.
Selling on Social
Social selling doesn't necessarily refer to running ads on Facebook or Instagram. Instead, it's the practice of researching and engaging with potential customers on social networking platforms. This may involve evaluating different channels to determine which one will provide you the greatest returns, as well as learning how to effectively engage with prospects in a way that doesn't feel like an obvious sales pitch.
Those who provide marketing consulting services know that social selling can benefit businesses in a number of ways. Social selling can potentially improve the quality of your leads, drive traffic to your site, gather more reliable data, and connect in a more meaningful way with prospects.
Social Media Prospecting Tips
As your marketing consultant, I can help to create a specific social media strategy for your sales team that will align with your marketing goals. But whether you've already decided to opt for outsourced marketing services or you're still handling some of that work on your own, here are a few important social media selling tips to keep in mind.
Cross-Promote Valuable Content: Facebook, Instagram, Twitter, and LinkedIn all provide ways for you to cross-promote content to new audiences. You can always repurpose older content and breathe some new life into it, as well as create specific content for these platforms that you can then show off on other channels. Your mantra should be, "if you build it, they will come." While outreach is important, you can't skip out on creating valuable content first.
Search and Use Relevant Hashtags: There actually is a strategy to using hashtags — and just like with keywords, it doesn't always make sense to pick the one with the widest reach. If you do, your post might get lost in a sea of others or fail to appeal to your target audience. Put effort into researching relevant hashtags and using only the very best to promote your posts and reach potential prospects.
Don't Ignore Opportunities for Engagement: One of the huge perks of social media is that it gives you a direct line to brands. This personal and immediate connection is unique to social media and can potentially make or break a prospect's impression of you. As any marketing consultant will tell you, you'll want to seize this opportunity to ensure your brand marketing strategy extends to your social media engagement. Respond quickly, keep it friendly and professional, and focus on building on a real human connection. That alone can set you apart from the competition.
While social media provides just one avenue for prospecting, it's one that shouldn't be overlooked. With my help, you can ensure your sales and marketing strategies work in tandem throughout every step of the buyer's journey. For more information, please get in touch with me today.
---
---