What Is a Brand Voice (And How Can You Find Yours)?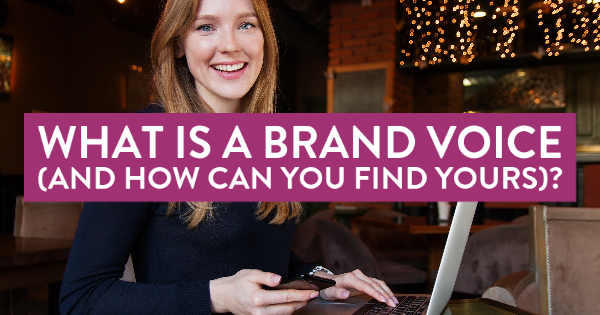 Around 77% of marketing leaders say that a strong brand is critical to their growth plans. But in order to communicate your message to your audience, your brand needs a strong and unique voice.
Your brand voice needs to stand on its own as something so clearly defined that you don't need to include a logo for your customers to recognize the message is coming from your organization. Without this, your marketing will feel inconsistent and confusing. But if you nail your brand voice, you'll be easy to identify as a trusted leader in your industry. Let's talk a bit more about what a brand voice is and how you can find yours with help from one of the area's most trusted brand strategy consultants.
What Is a Brand Voice?
Your brand voice is essentially how your brand speaks and sounds. It's your style of communication; it determines how you talk to your customers. Your voice should align with your brand values and persona to create a cohesive point of view and sense of expression. You can also think of your brand voice as the tone you take in your messaging. The words you use matter, but so does the way you put them together.
Virtually every recognizable and beloved brand has a specific voice. You probably love a number of brands that show a wide range of personas through their messaging. Some are playful and humorous while others are professional, intellectual, or authoritative. For example, the brand voice of Starbucks is pretty different from that of Harley Davidson. For that matter, Hallmark's brand voice contrasts pretty starkly with Arby's. But what all of those brands have in common is that their voices are strong and defined with their own brand characteristics in mind. In order to make your marketing truly resonate with your audience, you need to have a clear brand voice.
Having a clear brand voice will help you:
Be consistent in your messaging
Stand out from the competition
Bring internal unity to your organization
So now that you understand what a brand voice is and why it matters, it's time to move onto the next step.
How Can Brand Strategy Consultants Help You Define Your Voice?
Defining your brand voice isn't something you can do in five minutes. It takes quite a bit of time and effort to ensure your voice is unique to you and will resonate with your audience.
By offering my brand strategy consulting services to your team, I can help you hone in on your voice and make sure it's clearly defined to everyone. This can be accomplished in a number of ways, including analyzing existing content, conducting workshops to define your brand's traits, and creating reference tools to help guide your future marketing materials.
Many organizations make the mistake of believing that their messaging doesn't matter as much as their products or that everyone within the company understands what the brand is all about. Without help from brand strategy consultants, these businesses risk creating confusion or struggling with mediocrity. With a well-defined brand voice, your marketing can be exemplary — and your company can emerge as a front-runner in your field. For more information on how I can help define your brand voice as part of your brand marketing strategy, please get in touch with me today.
---
---