What Is a Fractional CMO and Why Might You Need One?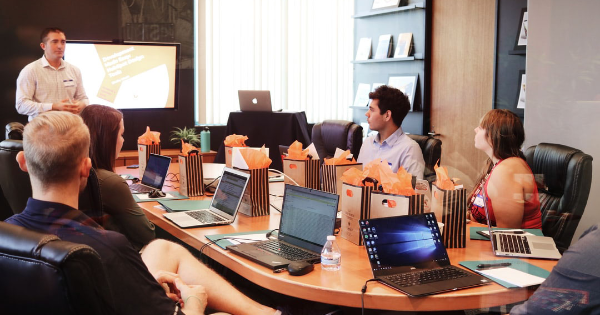 Most organizations know that marketing needs to be a top priority. After all, if you don't have a strong brand and a strategy to promote it, you'll have a tough time getting leads and turning a profit. But you might be surprised by just how many business owners allow their marketing to fall by the wayside.
Understandably, this can have some major consequences. But you might not even realize why your business is failing to thrive if you don't have help from marketing consultants or executives. Understanding more about your target customer and their motivations behind their purchasing decisions is a key part of the marketing process. Without that, you'll be missing a huge piece of the puzzle.
If you know your company's marketing has fallen short, you might assume that the best course of action is to hire an executive to lead an in-house team or a whole agency to handle your campaigns. But in some cases, it's actually better to work with an outsourced CMO to address those needs. Let's take a closer look at what an outsourced marketing manager can do for your business.
What is a Fractional CMO?
"CMO" stands for "chief marketing officer," while the "fractional" portion of the term refers to someone who provides their services on either a part-time basis or even as a long-term consultant.
Essentially, a fractional CMO is someone with a high level of marketing expertise who can act as a leader for your team. In most cases, an outsourced CMO will offer a more holistic approach to marketing and branding, along with the experience to create a customized strategy that will become the main driver for business growth. These top-tier outsourced marketing services can allow businesses to gain traction, increase revenue, and improve brand perception, all while prioritizing cost-effectiveness. It's no wonder that the February 2020 edition of "The CMO Survey" suggested that 27.2% of customers have made it a top priority to develop a trusting relationship with marketers over the next year.
When Might Your Business Benefit From a Fractional CMO?
Now that you understand what a fractional CMO does, you might be wondering about whether working with an outsourced chief marketing officer is the right move for your business. Businesses of all ages, sizes, and industries can theoretically benefit from the guidance and leadership an outsourced CMO can provide. But there are a few scenarios, in particular, that can bring the need for a fractional CMO to the surface. For example, you might consider hiring a fractional CMO if…
You aren't ready to hire a full-time executive: For many startups and small businesses, hiring a marketing executive on a full-time basis may not be financially feasible. However, the need for a strong brand and marketing strategy is a must. Working with an outsourced CMO is a more accessible option that allows you to put your marketing at the forefront.
You don't have the insights to make sound decisions: If you're making decisions about your marketing based on one person's opinion or a general sense of pressure brought on by competition, you won't have any idea what works and what doesn't. Instead of blindly pursuing a website redesign or wasting money on ads that don't convert, you can use the reporting and insight provided by your CMO to develop a strategy that helps your business succeed.
Your in-house resources are tied up or aren't delivering: Some business owners assume they can rely on their sales team or on employees who have limited marketing experience to handle their campaigns. Unfortunately, this often leads to weak messaging and confusing branding. When you hire a CMO, you'll obtain more consistency in your brand and will benefit from the guidance your team needs to lead them down the right marketing path.
Whether your business is going through a notable transition or you simply feel stuck with your current brand and marketing plan, you can rely on my experience and leadership to turn things around. To learn more about the branding and marketing services I offer, please get in touch today.
---
---