Which Sales Prospecting Tools Should You Use in 2021?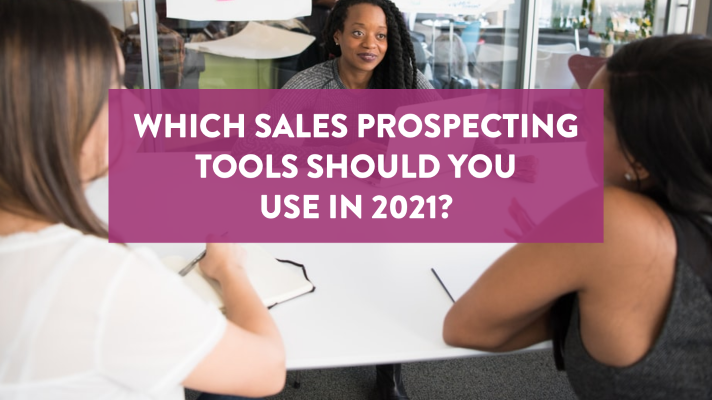 In order to grow your business, you need to devote a concerted effort to branding, marketing, and sales. While lead generation is important, sales prospecting is even more so — as prospects are even more likely to turn into revenue-generating customers. Around 90% of searchers haven't made their mind up about a brand before starting their search, but not all of those searchers will turn into customers.
But if you don't currently have a strategy for sales prospecting, you'll be doing your business a huge disservice. When you outsource CMO duties, you can gain valuable insights to help your sales team become more agile and efficient. But in addition to having help from an outsourced CMO, you may want to consider adding some digital tools to your sales arsenal. Here are just a few sales prospecting tools that come highly recommended if you're looking to grow your business in 2021.
Which Tools Can Improve Sales and Revenue?
Although there are dozens (if not hundreds) of platforms that can increase your sales prospecting success, you might want to check out the three tools below to start.
Prospect.io: This sales automation tool is known as one of the most powerful on the market. It's also fairly affordable, starting at around $79 a month — which most consider a bargain for all that you get. Prospect.io provides you with a number of features that can empower your sales team, including the ability to discover and even confirm essential details about prospects (like their contact information and official job positions). You'll gain access to metrics like email marketing open and conversion rates, as well as templates for easy follow-up. It has the ability to integrate fully with other sales tools you might be using — and there's even a Chrome extension available to keep everything streamlined.
LinkedIn Sales Navigator: You're no doubt already familiar with LinkedIn as a networking platform, but you might not be using it to its full potential. Among countless other features that can help you scale your business and find new qualified leads, LinkedIn's Sales Navigator can help you find sales prospects, obtain insights in real time, build on existing relationships with customers, and even collaborate with members of your own team. Although the cost of LinkedIn software access continues to rise, you can use this tool for as little as $65 per month. Because LinkedIn is already a great place to connect and find leads (especially if you run a B2B company), it makes sense to take full advantage of a platform you're already familiar with.
Propeller CRM: As one of the most affordable sales prospecting tools (costing only $35 per month), Propeller CRM may have its limitations — but it can actually provide a lot for only a small investment. This tool is fully integrated with Gmail, which makes email marketing a whole lot simpler. It also provides pipeline management insights, which can allow you to get a clearer picture of how your sales prospecting strategy is (or isn't) working. You can even personalize pipelines for different audiences and markets or qualify your leads while email campaigns are still in progress. While this tool won't replace the need to outsource CMO specialties, it can be a powerful way to begin.
How Can a Fractional CMO Help Your Sales Team?
As a fractional marketing executive, I do more than guide your in-house marketing team. An outsourced marketing manager will also work with your sales team to devise strategies for cost-effectiveness and time-efficiency. By empowering your sales team with marketing and branding knowledge, as well as providing them with the tools they need to become more agile, you'll be able to grow leads and prospects as a direct consequence when you outsource CMO responsibilities. To learn more about how I can provide the guidance your company needs to take your operations to the next level, please contact me today. I'd be happy to discuss the benefits you can experience when you outsource CMO duties.
---
---