Healthcare Marketing Challenges and How a Fractional CMO Can Help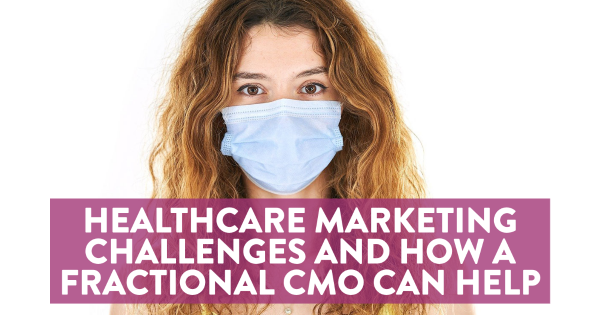 Every industry will present unique marketing challenges. However, healthcare marketing often comes with obstacles that aren't readily found in other sectors. While everyone requires and deserves access to superior healthcare, that doesn't inherently mean that your marketing campaign will be successful — especially if you aren't proactively addressing some of the most common problems faced by medical and health-related organizations. Let's take a closer look at some of those challenges and learn why you might want to work with a CMO on a fractional basis.
Perception: Although 50% of people are more likely to click on a specific brand name if that name shows up more than once in search results, that doesn't necessarily mean that consumers will trust healthcare-related enterprises. With so much information out there (and not all of it credible), many people are inherently skeptical of healthcare organizations. It's essential to alleviate confusion and frustration by presenting a clear and compassionate message through all of your brand marketing.
Compliance: HIPAA compliance is a major concern for any healthcare organization operating within the United States. But what many people fail to realize is that healthcare compliance can impact your marketing strategy. Although the rules have changed over time, it's important that your in-house or outsourced marketing manager knows which platforms and tools are permitted or prohibited in order to protect patient information. You'll need to exercise caution when developing email blasts, social media campaigns, and more to avoid being penalized or putting the public at risk.
Budget: Of course, many businesses have limited budgets to work with. But smaller clinics and hospitals, in particular, have a lot of other priorities that need funding — which is often why marketing falls by the wayside. Although many organizations are starting to realize the power of digital marketing, it may take some convincing to get everyone on board. Keep in mind that if you choose to work with a CMO on a fractional basis, this can often be favorable for your organization's bottom line.
How Can a Fractional CMO Alleviate Healthcare Marketing Challenges?
In order for healthcare organizations to distinguish themselves as industry leaders, it's essential to make marketing a priority. But when spending is a concern, it may not be feasible to bring on a full-time chief marketing executive. If you work with a CMO on a part-time or short-term basis, however, you'll be able to stay within your budget while accessing the expertise you need.
An outsourced CMO with experience in the healthcare sector can address the common challenges outlined above while devising a marketing strategy that works. As your fractional marketing executive, I'll work with you to fine-tune your brand strategy and ensure that your campaigns are both highly effective and completely compliant. For more information on how I can help your healthcare organization make an impact, please contact me today.
---
---